Announcing the gender of your baby is a chance to get creative and let both of your personalities shine. Whether you are sharing a photo on Facebook or sending cards through the mail, you want the photo to convey your excitement and draw people's attention.
From goofy to creative to just plain adorable, check out these ideas for putting together the perfect gender reveal photo.
If You Want To Get Messy
Since you're having a child, why not channel your inner kid with a blue or pink paint war that simply requires your trusted confidant to make a trip to the hardware store and buy appropriate paint to put in a neutral colored bottle. Wear all white and splatter your partner in blue or pink paint or have your partner put handprints on your belly using the paint.
Confetti Pop Ups also make for a colorful and dynamic reveal photo opportunity. Just make sure you are ready for the clean up!
If You're Both Goofy
via Double The Batch
Here's a cute idea that involves a series of photos. Get a photo of the two of you blowing a bubble. (one with blue, the other with pink). Then pop the bubble that is the color of the gender you're not having. You can also do this with balloons.
Speaking of Balloons
Balloons are a classic way to photograph your gender reveal. Whether you're holding 20 of them, releasing them from a box, or filling them up with confetti, they make for a special reveal memory and a beautiful photo.
If Your Reveal is Around Christmas
via A Paper Proposal
What a perfect time to announce the best gift you'll ever receive. Use lights, tinsel, ornaments, gift boxes, etc. for a festive announcement that doubles as a Christmas card.
Is your reveal around Valentine's Day, Halloween, or Thanksgiving? You can also center your reveal around these occassions. Stay tuned for a special blog post on ideas for Themed Gender Reveals!
If You Want To Involve The Siblings
via Simple Suburbia
Get the whole family involved with the reveal photo. Dress your child in a "Big Bro" or Big Sis" t-shirt. Let them shoot confetti, release balloons, or if you're brave, splatter paint. For a gender reveal that doubles as a science experiment, ittle ones will love this Volcano Gender Reveal.
Smoke Fountain
For the ideal photo opportunity, try these colorful smoke fountains. Keep it cost- effective by buying one for you and one for you partner at $13.95 each.
Piñata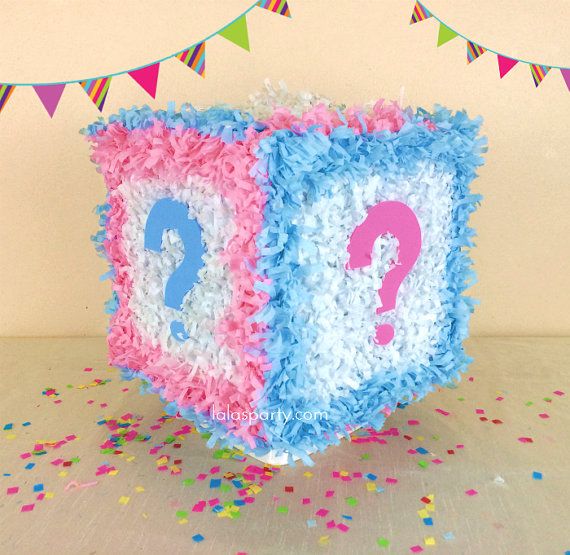 We love this idea. Get a piñata filled with blue or pink confetti. Have mom, dad, or even an excited brother or sister swing at and break the piñata. Upon breaking the piñata, confetti will go flying into the air.
Putting Together a Gender Reveal Video
If you're hosting an actual gender reveal party, designate someone to video the big moment. Make sure they get the reveal itself and everyone's reactions. It will be a special keepsake the two of you will always remember. Check out this Star Wars Themed Reveal Video for inspiration.
Need more gender reveal ideas? We've got em.